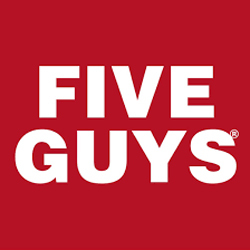 Restaurant Crew Member - Kennedy Blvd
Tampa, FL
Paid Tuition Reimbursement, Flexible schedule, Vision Insurance, Dental Insurance, Health Insurance
Five Guys Burgers and Fries is actively hiring Fast Casual Restaurant Crew Team Members. It's time you earn more than just an hourly wage, at Five Guys your pay includes base starting at $12/hr + Tip Share + Bonuses for High Score Secret Dining Reviews!
Immediate start dates available for job openings at the South Tampa location close to Kennedy and Dale Mabry.
We understand everyone wants to grow and move forward so we support our food service crew with Fast Pace advancement opportunity to Shift Lead Roles!
AND if college is in your future or in your "now", stick with Five Guys Burgers and Fries full time and you will be eligible for tuition reimbursement!
No early mornings and No late nights! Shift hours start about an hour before opening times and closing hours may go 40 minutes past the guest hours. Dining room hours are generally Noon -8pm. You can work Part Time or Full Time or a blend of Both - you tell us what type of hours you need and we will do our best to make a schedule that works for you!
The Five Guys Games gives you a glimpse of what it's like to be apart of our Crew! Five Guys Games is our Bi-Annual Crew Member National Competition with a chance for Crew Members to show off their skills and win $50K!
As a Crew Member you are apart of the Five Guys Team. All members of the team will be trained to have the skills and knowledge to work the cash register, serve customers in the order line, manage the grill, do the morning prep and evening close. Our open kitchen design encourages easy communication across the Team making for a fun upbeat energy.
Click Apply to send us your name / email / cell and follow the page as it lands into our quick application. We are looking forward to growing our Crew Team with you!
40779938